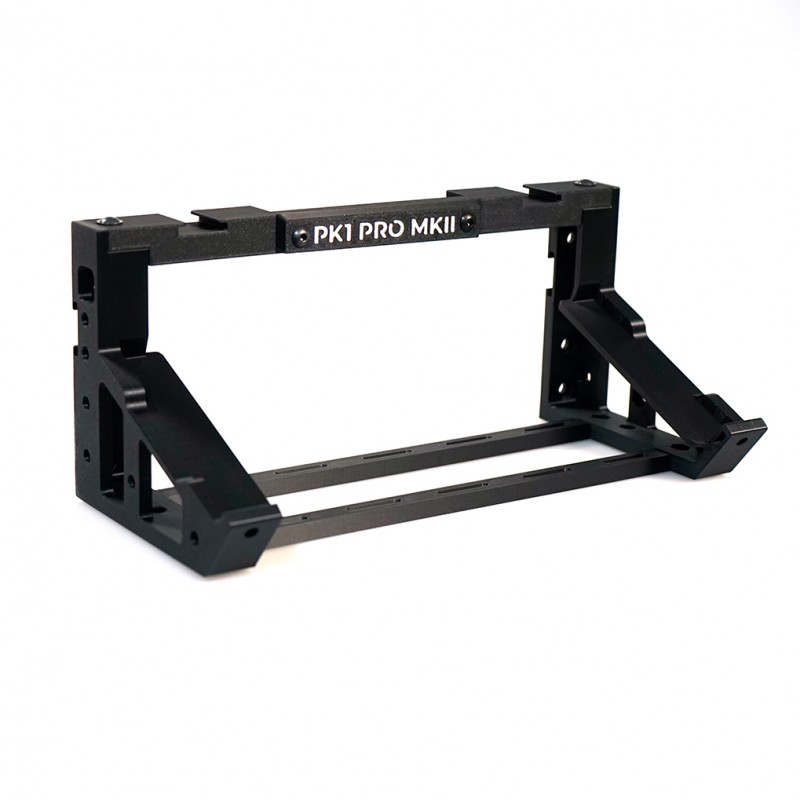  
PK1 Pro MKII for ATEM Mini, Pro and ISO
PK1 Pro MKII for ATEM Mini, Pro and ISO
The new and improved PK1 Pro MKII for the ATEM Mini, Pro and ISO is here! Wider base for the switcher, flat top bar for your accessories and four cold shoe adapters are the new changes from its predecessor.
Stronger, with new features and plethora of accessories, the PK1 Pro MKII Stand designed by Aaron Parecki is the best companion for your ATEM Mini video switcher.
Featuring add-ons (sold separately) such as Anti-Tilt legs, Retaining Clips, T5 SSD holder and more, this is the best stand on the market

In Stock items usually shipped within 2 business day. On demand 3D printed products ship in 3 days
Due to COVID-19 and Christmas, longer delivery times are being experienced by our shipping partners

Return policy
Returns accepted for faulty products within 14 days. Please contact us for RMA

PK1 Pro MKII for the ATEM MINI
The PK1 Pro MKII is an incredibly well thought out stand for your ATEM Mini 

Video Mixer for Live Production and Live Streaming 

by Aaron Parecki
The stand raises the ATEM mini off the desk to help keep it cool and make it easier to use, and features excellent cable management.
Additionally, you can place an extra ATEM mini or Streamdeck XL deck in front of it, thanks to the raised position of the stand.

It features cold shoes on the top cross bar allowing you to attach microphone receivers and other cold shoe accessories (total of 4 cold shoes).
On the sides, you can attach cheese plates for mounting even more accessories, such as an SSD drive for storage.
It comes as a complete kit with 3D Printed parts, 4 rubber feet and the required fasteners for assembly
It does not include the ATEM Mini or any other accessories. These are for display purposes only
*Design subject to change
YOUR PERFECT RIG With mounting points along the sides, back and top, you can attach a wide range of accessories to your stand. 
BUILT-IN COLD SHOE The top cross bar has a built in cold shoe mount so you can attach wireless mic receivers and other accessories directly to the stand. 
TOP MONITOR MOUNT The top cheese bar can hold a Smallrig monitor mount to attach a 7" or 10" monitor on top of the ATEM Mini. 
VARIOUS MOUNTING OPTIONS The rear has an additional cold shoe mount as well as screw holes for attaching various Smallrig plates or other accessories. 
ATTACH SSDS AND MORE With a Smallrig cheese plate attached, you can mount things on the side. Use a cold shoe option to attach the Hollyland Mars 300 wireless HDMI receiver to the rear.
SPACE FOR ANOTHER ATEM The stand raises the ATEM Mini up just enough to place another ATEM Mini below it.
CLEAN CABLE MANAGEMENT The cables from the lower ATEM Mini will run underneath the rig to keep your desktop clean. Use short HDMI cables and a flexible USB-C cable to keep the cables in the rear clean.
SPACE FOR A STREAM DECK XL You can also place a Stream Deck XL below the ATEM if you're using it with Companion.
FITS A DECKSAVER ON TOP Protect your ATEM Mini with a Decksaver cover on top. Keeps the dust off while not in use, and prevents your cat from stepping on the buttons during a stream. The DeckSaver will not fit IF you are using the optional retaining clips