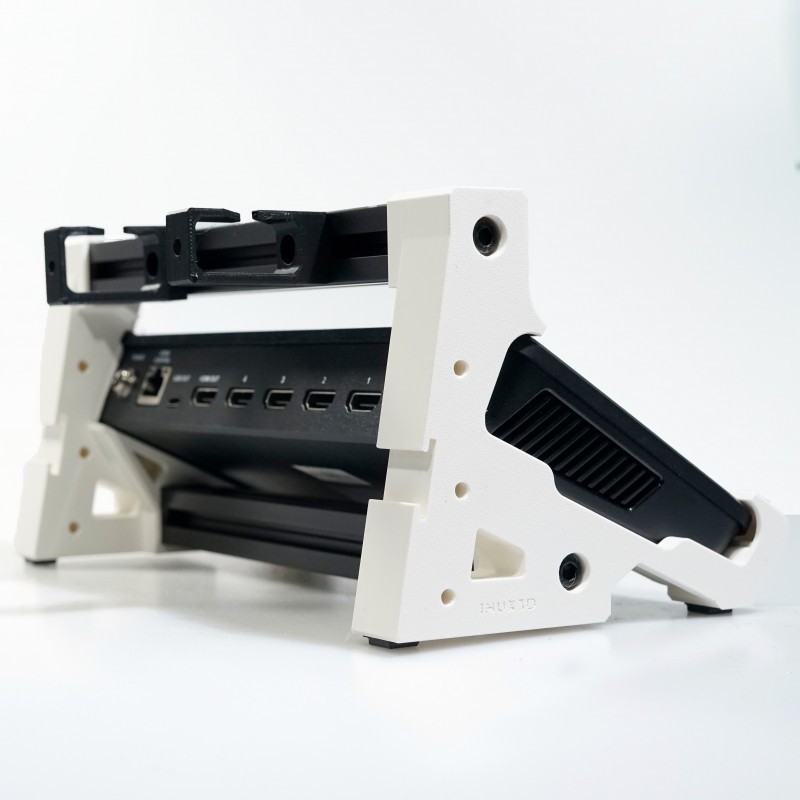  
PK1 Pro Streamer AM - Stand for ATEM Mini / PRO / ISO
The ProStreamer AM is the next generation of the PK1 Stand for ATEM Mini / PRO / ISO. Utilising Aluminium bars for maximum strength and rigidity, it is the most stable desktop or tripod platfrom for your ATEM Mini.
The box contains a pair of cable managers that will keep all your cables tidy and a set of extra cold shoes that you can mount to the top aluminium bar for more mounting options of your accessories.
You can purchase additional accessories such as the aluminium cheeseplate that will provide a mounting system for tripod use. It can also be used as a side mount to attach popular accessories.

In the box you will find a set of nuts and bolts to use with our cheeseplate or the SmallRig cheeseplate (if you already have one), so you can mount the stand on a tripod.

The ATEM Mini / Pro / ISO, Tripod, Monitor, Cables, Raspberry Pi mount and Raspberry Pi are not included in the price and are displayed here for illustration purposes only. Please refer to the "What's in the box Image"

In Stock items usually shipped within 2 business day. On demand 3D printed products ship in 3 days
Due to COVID-19 and Christmas, longer delivery times are being experienced by our shipping partners

Return policy
Returns accepted for faulty products within 14 days. Please contact us for RMA