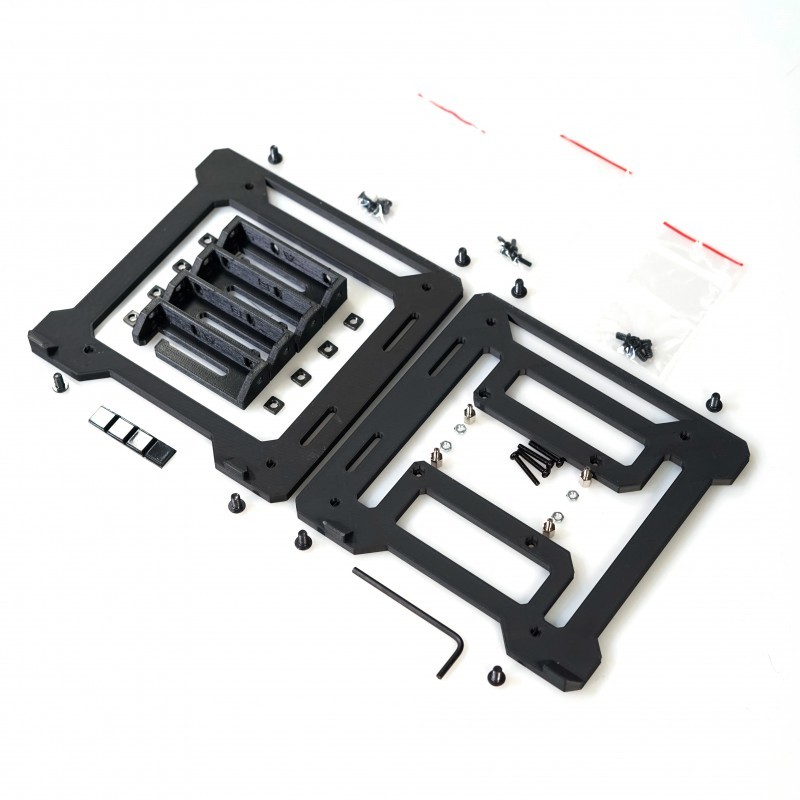  
Terrapi Xtreme DUO
The TerraPi Xtreme DUO is an open frame 2 bay HDD case and contains the necessary hardware to directly mount a Raspberry Pi. With provision for two 3.5" HDD drives, the TerraPi DUO can also be used as a DAS (Direct Attached Storage) for your Mac or PC and is available in either Black or Orange-Black. 
You will be required to source powered USB to SATA adaptors and power bricks to ensure that voltage requirements and safety standards are met for your country. 12V 2A is typical for most 3.5" HDD's. Please check the HDD specifications before powering up.
The kit includes a 40mm silent fan and a set of 4 heatsinks for adequate cooling of the Pi.
The Raspberry Pi, USB to SATA adapters and 3.5" HDD drives are NOT included in the price and are depicted for illustration purposes only

In Stock items usually shipped within 2 business day. On demand 3D printed products ship in 3 days
Due to COVID-19 and Christmas, longer delivery times are being experienced by our shipping partners

Return policy
Returns accepted for faulty products within 14 days. Please contact us for RMA
The TerraPi DUO is a unique open frame case for Raspberry Pi (3 and 4) that houses two 3.5" HDD Drives. You can effectively use your Pi as a NAS server with Open Media Vault, OwnCloud/NextCloud and any other file sharing or storage management application. It does not include the USB3 to SATA adapters. Those have to be purchased separately, and you need to make sure that they will support the capacity of the drives you are going to be using. Additionally, they must be externally powered as the Pi power is not enough to drive the 3.5" HDD drives.
Attempting to use the wrong USB adapter(s) may result in damaging your Pi!
The assembly takes about 5 minutes and all the necessary nuts, bolts and allen key are provided in the kit. There is an online step-by-step guide with detailed instructions and pictures to help you put the TerraPi DUO together easily.
In the kit are four high quality rubber feet that provide stability to the case and minimise noise from the HDD vibrations. Please make sure you affix those as per the documentation.
Another use for the TerraPi DUO is the possibility to use the case as a Direct Attached Storage case (DAS), thus providing a convenient and inexpensive way of housing 2 drives and connecting them to your Computer/Laptop via USB to SATA cables and or USB Hub.