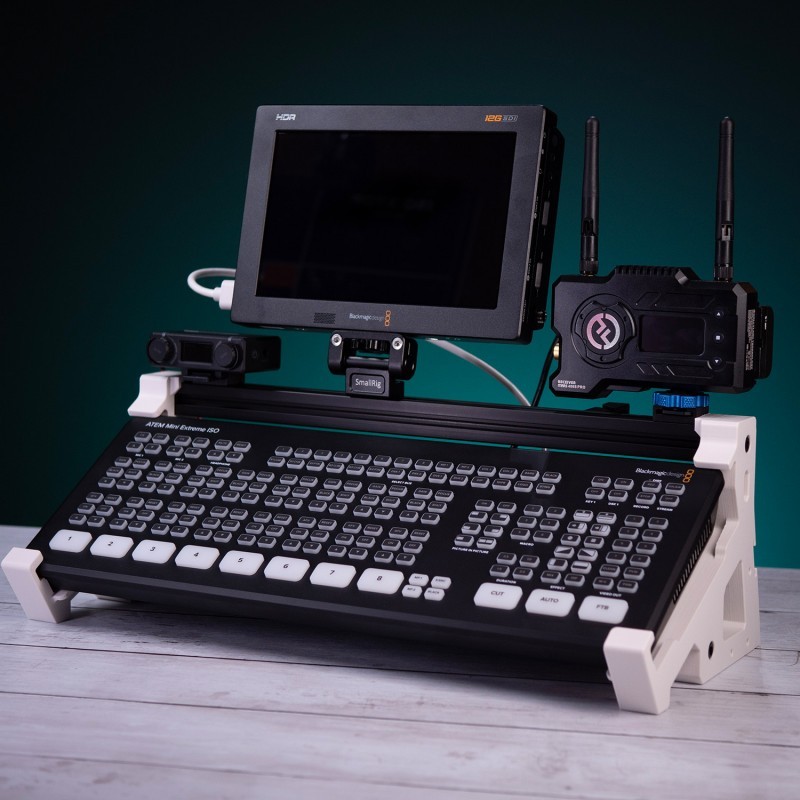  
PK1 Pro Streamer AX - Stand for ATEM Mini Extreme
The ProStreamer AX Stand for ATEM Mini Extreme is the flagship of the PK1 ProStreamer Product line. An ultra durable aluminium and polymer stand that checks all the boxes for the Professional Streamer and Video Producer.

Using an optional monitor mounting system, you can mount any monitor on the aluminium bar (up to 10Kg - up to 17") without worrying about stand deformation or even stability. The pair of wire managers will keep the cable clutter at the rear of the ATEM neat and tidy and you can always add more if you want to. Additionally, two removable cold shoes can be positioned on any of the aluminium bar surfaces for your individual setup.

The ATEM Mini Extreme, Tripod or Monitor mounts, Cables, Raspberry Pi mount and Raspberry Pi are not included in the price and are displayed here for illustration purposes only. Please refer to the "What's in the box Image"

In Stock items usually shipped within 2 business day. On demand 3D printed products ship in 3 days
Due to COVID-19 and Christmas, longer delivery times are being experienced by our shipping partners

Return policy
Returns accepted for faulty products within 14 days. Please contact us for RMA
The kit contains two aluminium bars, the polymer sides, a set of wire managers and cold shoes. All of the required nuts and bolts are included to assemble the stand and included accessories.

You can also purchase additional nuts and bolts, if you want to be able to attach the Smallrig monitor mount directly on the aluminium bar
There is also a mount for Raspberry Pi 4 with an aluminium heatsink for quiet and efficient cooling.